Welcome to my website!  Building this site has been and will continue to be a long, slow process.  I am planning on moving my Blogspot content here, and opening an online store in the next few months.  I am learning as I go, this will take time as I'd rather be stitching!  Please keep checking back for new content.
I usually post on Tuesdays and Thursdays, look for progress reports on art work, ramblings on the creative process, announcements about where to find me at upcoming quilt shows, and occasional tangents on some of my other varied interests.
Currently, I am working on two potential entries for upcoming SAQA shows: Upcycle and 3-D Expression.  I'm also hoping to have some entries for a few regional art shows as well.  Here's a detail of my Upcycle entry-in-progress: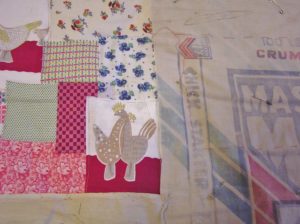 What is upcycled about it?  It is a collage that started with a chicken feed sack that long ago, a youngster with a terrific sweet tooth made into a gigantic trick or treat bag.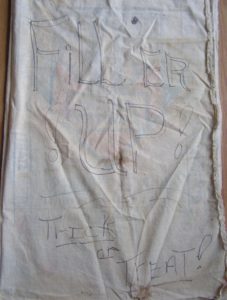 I added pieces of vintage printed feedsacks and parts of a vintage tablecloth printed with fabulous 1950s style chickens.  My next step is to start quilting with thread sketches of chickens.  I will go over the lettering in the above image with hand embroidered stitching, then add some candy wrappers to make this a mixed-media collage and keep with the trick or treat sub-theme for this piece.
Next time, I will show a bit of another large art quilt that I have in the works.