October was another successful month of churning out my funky little squares.  I need to get all of them out and start looking at them with an eye to finding any possible trends that I developed in them.  My main goal for the project was to make four squares each week this year, and I feel like I have the self-discipline to finish the year on target, and to keep that stitching habit going.  After December 31, I don't know if I will make many more of the little squares, instead I want to keep that time I have ingrained into my routine to finish older projects.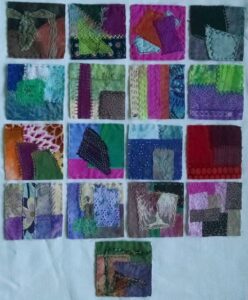 A couple of secondary goals for the 4 x4" square project was to play with composition and color and to work on making my hand stitching more interesting.  The color and composition play has been mostly successful.  I think that there were only a few squares that just don't cut it visually, but that is all a part of creating.  I will be able to judge myself better on this when I get all of the square out together at the end.  The stitching goal hasn't quite gone as planned.  I am just now, in the eleventh month of the project, doing some truly unusual and creative things with my stitching.  Part of my lack of growth in stitching comes from needing to complete each square quickly, and from the size constraint.  These factors slowed stretching myself in this aspect, so moving forward I think I will be able be more innovative in my stitching.
Next week, some musings on projects involving pumpkins and autumn leaves.