I started a fabric dye session yesterday, and by dusk I was ready to call it quits with dyeing.  It is a physically demanding task, and with each year, I feel it more and more in my muscles and joints.  It is has also been frustrating for me not to be able to get the fabrics I'd really like, not yet anyway.  I'm still using mostly vintage damask tablecloth and other vintage textiles.  Today, I began the rinse out, and oh my, I take back all the thoughts I had yesterday: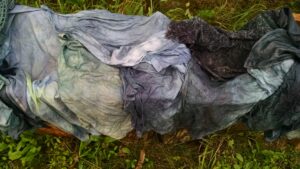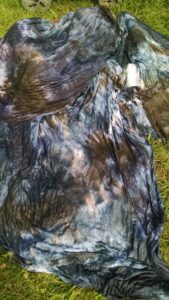 I also have three different batches of black to rinse out, another day!  My back needs a break before it feels broken.
The Brushed Steel and Tea Leaves have a habit of separating, resulting in some surprising random effects.  The color separation is something that I find attractive.  It adds visual interest and lends ideas for embellishing – think along the lines of trying to find images in the clouds.
Off to do some more laundry… I can't wait to see this batch of fabric dried and ironed.