I'm back!  Well, I never left, but I have been making things.  I am pleased to report that today is the last day of the 2020 Index-Card-a-Day Challenge, and I have finished all of them!  I will post more about the end of this year's ICAD next week, because now I want to show my attempts at creating to music.
My tastes in music are quite eclectic, so it is difficult to find something that am not familiar with.  The Hoopla app (should be available through your local library) has a meager offering of some world music, and there I found a recording of Australian digeridoo music.  That is what I chose for my creative experiment.  I decided to make my musical sketch on an 8.5 x 11" piece of dark gray textured paper, using gel sticks, crayons, colored pencils and oil pastels to make my marks.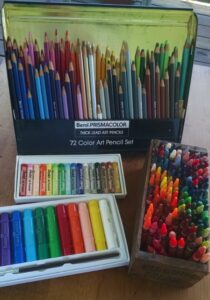 After getting everything in place, I started the music and listened for a few minutes, choosing colors, making an effort to select colors that I don't normally use.  Then, I started drawing lines, trying to imagine my hand connecting to the sound and taking over my movements.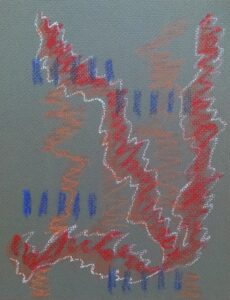 I kept going, filling in shapes and adding marks.  I think that you can see how the red waves and orange scribbles were in response to the undulating drone of the digeridoo, while the blue bars, white dots and yellow slashes came from the sounds of sticks tapping together.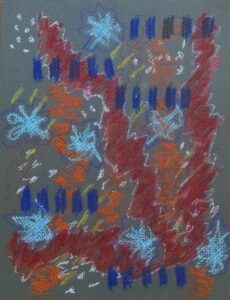 Finally, I added more shading and bulked up the composition with some brighter colors.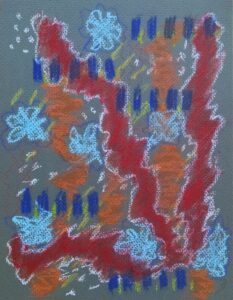 This could be a great creative block smasher, I will be making a point to doodle or sketch to music more often in my art journals.  As luck would have it, one of the last prompts for the 2020 ICAD challenge was "Bossa Nova."  Hoopla again saved the day with several Bossa Nova titles, and here is what came out of my mind: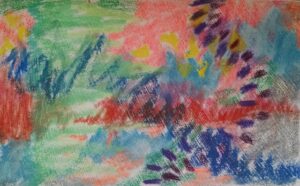 Next week, (yes, I will post next week, I promise) the ICAD wrap up and moving on to something else.