As usual, I have not accomplished everything that I wanted to in the last week.  I have kept up with my four 4×4″ squares: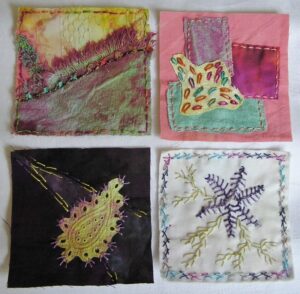 Here is a sneak peek of something new coming soon for all of the hand embroidery lovers: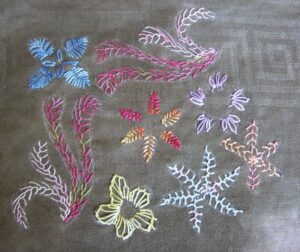 The background fabric is a dyed vintage damask napkin.  I have dyed hundreds of them and have them for sale at the quilt shows.  They are easy to stitch through, I usually add a stabilizer to the back side to keep them from shifting and bunching.  I love the way that the woven designs are enhanced by the dye, and they add a layer of additional textural  interest to a piece with hand stitching.  The vintage damask also machine quilts nicely.  The damask napkins also find their way into my fabric collages, I use them as a base for adding vintage fancy pieces.  They also work nicely in pieced blocks and applique designs.