I am happy to report that I finished my year of 4 x 4" squares on time!  Here are the December squares: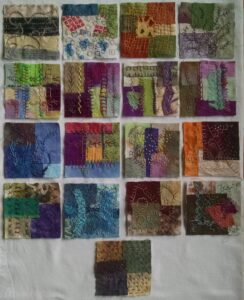 Now, I must decide what to do with all of these crazy squares.  My original intent was to keep some as prototypes for larger pieces.  I like to think of these as sketches – throughout the project, I played with composition, color combinations and to a lesser degree, getting more creative with my stitching.  While I made my way through the year, I thought the squares that I did not decide to keep would get mounted on small canvas panels to sell at art fairs.
On New Year's Day, I laid out all of the squares, and they looked great all together.  I am now considering making an art quilt of them, and making more squares for my original plan sometime in the future.  I am thinking it would be best to wait and see when and how the art fair comeback trail will unfold before making huge plans.
Of course, seeing all the squares out together with the idea of making them into a single work raised a few questions.  Not just the technical issues of putting them together, but more personal questions: Can I live without the squares that I love if the piece sells?  Will I really want to keep the resulting piece – will I see it as a constant reminder of a year that I want to forget?  Making four squares a week certainly helped to get me through having nearly everything that I was looking forward to in 2020 taken away.  Now that I have let the first week of 2021 slip by, I need to get busy with my new year-long series.