Sometimes, I pull out an old half-finished project and wonder, what WAS I thinking?  These two squares put the crazy in crazy quilt: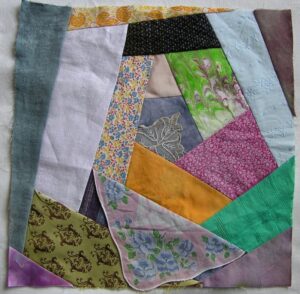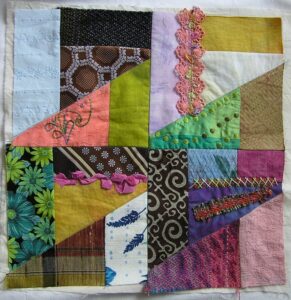 They were the result of piecing demos that I did while teaching a crazy quilt class a couple of years ago.  Obviously, I was grabbing random pieces of fabric during the demo and not paying attention to color, pattern, and the fact that they would need to be heavily stitched and embellished.  I'm not sure if I should even try to finish them, especially considering the amount of projects that I have already underway.  Part of me wants to see how much worse I can make them!  These two squares remind me of a couple of quotes from the BBC series Top Gear, "ostentatious and ghastly," and "ambitious, but rubbish."
Finally, what in the world will these bits become?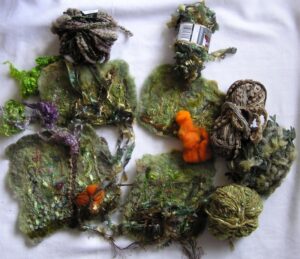 Chunks of wet felted wool, and funky yarns that will be transformed into more of an ongoing series.  One of the finished pieces in this mystery series has already earned me an award at a regional quilt show.  More on that next time.