A quick post today… I have made some progress filling in the missing cards in my attempt at the 2018 index-card-a-day challenge.  Again, some days, I made a card like I was supposed to, other days, I skipped.  Sometimes I didn't make the time to do the card, other days I just didn't want to deal with the prompt.  Now, over a year later, I am determined to make something for all of the prompts.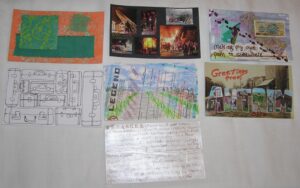 Week three prompts were sea green, super hero, path, suitcase, legend, "greetings from" and treasure.  I especially like how that "greetings from" card turned out.  That one was inspired by vintage large letter postcards.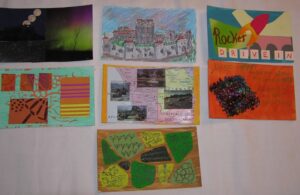 Week four was sky, castle, the Jetsons, tangerine, meerkat, magic carpet and garden.  Will I keep this momentum going?