Today, a few words about some more of my index-card-a-day experiments.  I won't be going on much more about these, I promise (at least until next year's ICAD edition).  The annual challenge is all about making something within the daily theme, with what you have on hand, and sometimes producing even when you are not at all interested in the subject.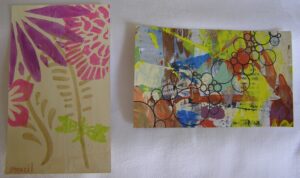 The two above cards illustrate perfectly the concept of "use what you already have."  Of course, taking on a daily mixed media art project, I already had a good stock of various art supplies.  The card on the left happened very quickly.  The prompt was "stencil."  I simply reached up above my painting table and whisked my small collection of TSC Designs stencils off of their nail on the wall, and traced some of them onto the card with markers.  I'm interested in creating complex layers in my art, and this was an easy way to accomplish a few layers.
The prompt for the card on the right was "escape."  On the day I was to create this card, I read the prompt while sitting at my painting table, thinking, "what a ridiculous prompt for a 3 X 5" card… what am I going to do?"  I was NOT inspired.  I stared at my table for too long.  No ideas were coming to my mind.  I stared some more, noticing how messy the newspaper that I used for a paint blotter had become.  I could still see bits of the newspaper text and images through the multi color paint splotches.  Eureka!  I could use the newspaper "drop cloth" as a base for a card – the escape card!  Quickly, I cut a 3 X 5" piece of the paper, glued it to an index card and used circle stencils to doodle on top of the paint.  I had successfully escaped artist's block for another day.