I must have gotten lost in my search for the great chocolate chip cookies that I have mentioned in pervious posts.  More recently, I have been pursuing great milkshakes more than cookies.  The quilt show circuit has come back in full force, it has been great to be back on the road from time to time. Welcome to readers joining me in my creative adventures.
Over the past two years I had hoped to make progress finishing up older projects.  That has not gone as I planned, but I am pleased to report that this year I started and finished the largest art quilt in my oeuvre so far.  The Ohio Amish Country Quilt Show had a challenge class this year for Log Cabin quilts.  I decided to make my own creative, wonky interpretation of the traditional Log Cabin block.  Here it is: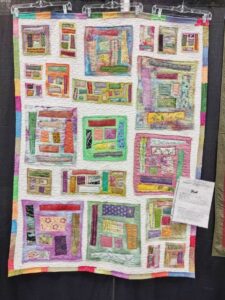 The blocks started with either chunks of dyed cotton batting or dyed vintage napkins.  I backed each base piece with muslin, and added raw edge applique scraps to the top.  Starting with a small square just off center, I kept adding longer fabric strips around the block, leaving space to show the dyed base piece colors.  Next, I went wild with hand embroidery.  After all the blocks were finished, I made a quilt sandwich from a vintage damask tablecloth, batting and backing; machine quilting the blocks to the sandwich.  I finished the quilting and binding at 10:30 PM the day before the quilt had to be turned in to make it into the show!  I am very pleased with the way it turned out, and I am happy that it is inspiring others as well.  I am looking at other traditional quilt blocks to use this raw edge technique on, and I am working on developing a future workshop in this technique.
Next week, I will be back with my latest fabric dyeing adventures.