Being creative does NOT mean that everything you attempt will turn out successfully.  Sometimes, my ideas just don't work out like I thought.  Today was one of those days, but I learned a few things in the process, and that's always a good thing.
Over a year ago, I started a large art quilt that was going to be for a SAQA show.  The theme was "Upcycle," and my idea was to create a piece using an old feed sack and somehow incorporate candy wrappers into the design.  In my very first post here, I featured the feed sack that I chose, and you will see how the candy wrappers fit into the project.
I have yet to finish the quilt, today I thought I'd try an idea I have for the candy wrappers.  My original plan was to quilt the piece with thread sketches of chickens, and add the candy wrappers as random accents.  A few days ago, I thought I'd try making collaged chickens using the wrappers and applique the chickens to the quilt.  Using one of my own drawings, I first traced the drawing onto a piece of Foundation Stuff, and made another tracing onto paper to create a pattern.  I numbered and cut out the paper pattern pieces.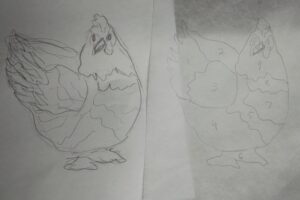 Next, I used lightweight fusible webbing to bond candy wrappers to additional pieces of Foundation Stuff.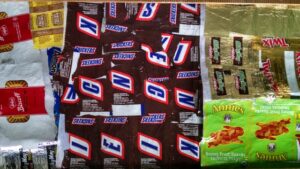 Using the pattern pieces, I cut out pieces from the bonded candy wrappers, then assembled them on the Stuff with the drawing.  I often use a glue stick to tack pieces in place before sewing, once dry, the glue presents no problems to sew through.  However, I discovered that the glue does not work well on Foundation Stuff!  The Foundation Stuff is a new product to me, so I am learning the capabilities of it.  I was able to slather both sides of the parts I was trying to join, and weight them down until the glue dried.  Then, I carefully took the developing chicken collage to one of my sewing machines.
I use an 80 or 90 universal or topstitch needle and quality 40 or 50 weight thread when sewing with paper.  Use a long stitch length (straight or zigzag), and remember that paper will dull your needle very quickly.  I sometimes save needles that I have used for a little while, but are still useful, for sewing paper.  Once you finish your paper sewing project, discard that needle.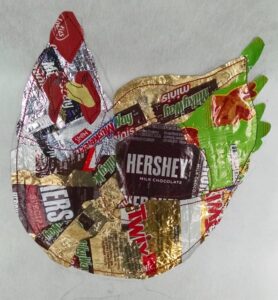 So, here is my trial chicken.  It is an interesting concept, but in the end, I just don't like it.  I don't like the candy wrappers, they overwhelm the chicken.  This isn't going to work for the feed sack quilt.  At this point, I don't even want to put the candy wrappers in the quilt at all, not even in my original plan of randomly stitching them across the surface.  Since the quilt is no longer for an upcycle challenge, I am fine with this.  Now, I am considering making 3-D fabric candy pieces for this project.  I won't know how that idea will work out until I try it.
Later this week I will have some musings on music and trying to capture the moment that you first hear or see something that just rocks your world.