Again, I have changed course from my intended plans.  I'm being flexible!  The pumpkin and autumn leaves that I promised in my last post will come some other time.  Meanwhile, I have my 4 x 4" squares from November: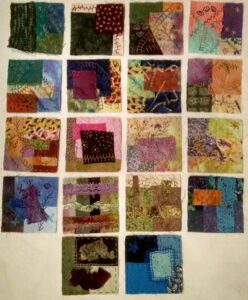 In the eleventh month of this project, I am finally pushing myself to get more creative with my stitching by filling the shapes created by the fabric pieces and jumping outside the edges.
Looking ahead to 2021 (and hoping that we get to go to art festivals, quilt shows and sewing industry expos again), I have decided on my yearlong project.  I am going to revisit the book A Fiber Artist's Guide to Color and Design by Heather Thomas (Landauer Publishing, 2011), and complete all twelve workshops in the book.  Back in 2011 when I bought my copy of the book, I completed the first workshop, and then never went on to the second.  I am going to start over, since my skill level has improved since 2011, not to mention my creative vision changing over the years.
I will also investigate some new fabric collage techniques in this project, with the intent of making multiple small quilts for each workshop to test out all of the new things I want to try.  Ambitious?  Oh yes!  I have already started cutting fabric.  The first workshop focuses on value, texture and balance using a restricted neutral palette.  I'll start off with pieces of commercial print fabric cut to the intended finished size.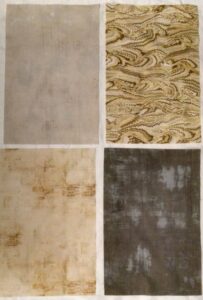 These first four collage quilts for Workshop 1 will be collaged with bits and pieces in much the same way that I have stitched my 4 x 4" squares.  The bits and pieces will include assorted fabrics, trims and funky yarns.
Another set of collaged quilts will emerge from pieced backgrounds that will have more fabric pieces, lace, doilies, trims and stitching added to them.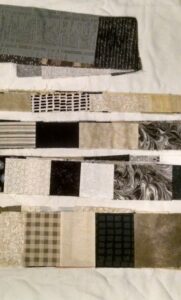 How far will I get with this?  I could work on the neutrals for an entire year!  Keep checking back to see what happens in my latest creative adventure.