I still have not made any progress on the pieces for fast approaching deadlines.  The 3-D entry is not going to happen, at least not for its intended show.  I'll keep working on it and use it for some other show entry.  I have not made a single stitch yet on the two Upcycle entries.  I've simply allowed myself to be distracted by other ongoing projects, so at least I am getting back into a creative groove.  One of the things that I have made progress on are some of my mini quilt collages: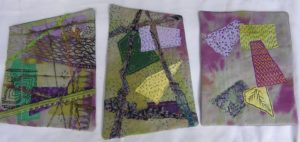 The fabrics in these three "sketches" are scraps of my own hand dyes in the "Madri Gras" color blend.  The one on the far left was stamped with antique wallpaper pattern stamps and acrylic paint, then embellished with funky yarns.  The center one has strips of silk scraps to create a very skewed frame to the composition, then I seed stitched all over to secure the top two layers before pillowcase binding it.  On the far right, trial with using embroidery stitches to create textural interest in the solid colored shapes.  I still need do some final machine quilting in all of them.
I have no idea what I will work on this weekend, and I think that I am going to scale back to posting once a week until I get some issues worked out with the back end of this site.