A week has gone by, and I still have not started quilting either of my Upcycle entry candidates.  I have been working on something else entirely, something with an earlier deadline: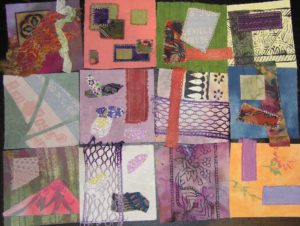 What are these little squares?  Some of the pages to an accordion-style fabric book that  I am attempting for another SAQA entry, the 3-D exhibit that closes at the end of the month.  I still have some other parts to the whole entry that I have not even started yet.  I don't think that I am going to get it all done for this entry, but I will be able to use it for other shows someday.
I am almost ready to start quilting the gravestone rubbing tablecloth quilt that I discussed in my last post.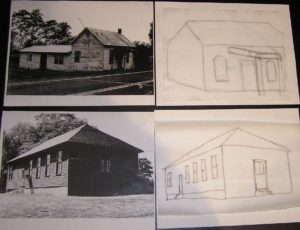 This is a wild experiment.  I have made line drawings of old buildings in and around my rural home onto water soluble stabilizer.  I will use these drawings as guides to quilt this piece by thread sketching.  The attempt could end in disaster, or turn out fabulously.  What will happen?