At last, here are the rest of the index card creations from my successful completion of the 2020 Index Card a Day challenge.
Week 6: Ocean, Hydrangea, Rust, Mirage, Gradient, Cinnamon or Spice, Knot.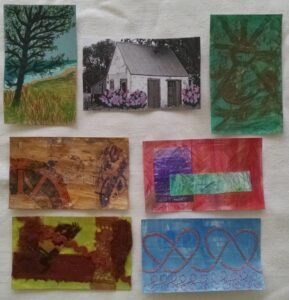 Week 7: Bloom, Unravel, Simplify, Diagram, Pencil, Confetti or Glitter, Orchard.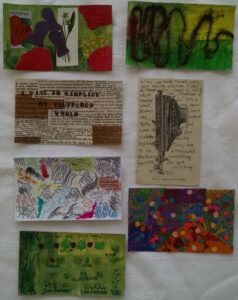 Week 8: Pinwheel, Blue or Blueberry, Orbit, Garden Gate, Outline, Paisely, Unfold.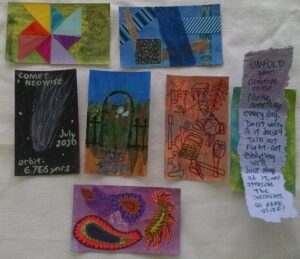 Week 9: Billiards, Tea Set, Arboretum, Bossa Nova, Adventure.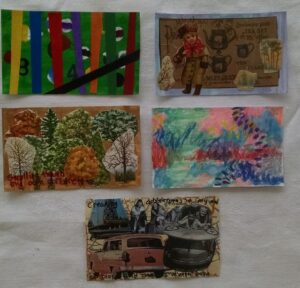 For the first time in four years of my attempting this challenge, I finished all 61 cards by July 31.  Now, I will admit, there were some days that I made more than one card because I skipped a day or three and had to play catch up.  Overall, it was a great creative challenge – I learned some things about the art materials I have on hand, got some new ideas and further reinforced a daily creative habit in my routine.  Now that I finished an edition of the challenge on time, I don't know if I will participate in it next year.  For the two months that it runs, it does take away from my stitching, but I might try a variation on it next year that will keep me creating fiber art.  Meanwhile, I am going to make fabric boxes to hold my index card creations, and pick up some unfinished fabric collage.  A little bit of work each day on a project is another step towards finishing.