As I mentioned in my last post, I took a class recently to learn how to felt flowers out of wool.  I'll just cut to the eye candy, here is a bouquet of all flowers from all of the participants: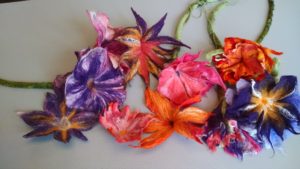 I have been trying out all sorts of techniques to make fabric flowers with a future series of vases in mind; this felting technique will be a nice addition to my repertoire.  It is not too difficult of a technique, but since it is wet felting, it can get a bit messy.  It all starts out with wool roving.  The most fun part for me is selecting colors.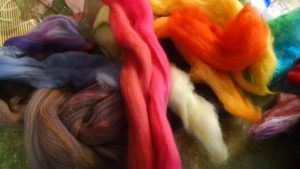 Yesterday, I felted some more flowers.  Joining the stem and sepals to a flower is tricky, you have to get the timing right and be sure that flower hasn't been worked too much in the early felting process.  Otherwise, the two parts won't join.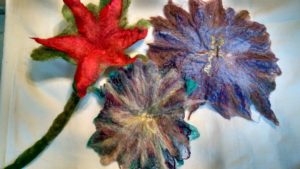 I have lots and lots of wool roving around, and until now, I have not been very inspired by working with wool.  That's all changed now, many felted flowers are in my future!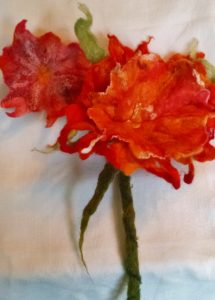 I'll need to take a break from the flowers, I am already behind in the ICAD challenge.  What will I have to show on Tuesday?