Last week, my excuse for not posting was getting ready for a quilt show, this week, I've been recovering from it, mostly trying to put all of my inventory out of the way for the winter.
My trip to Granville started out with a journey an hour in the opposite direction to the Kreinik Threads factory and outlet store.  I am pleased to announce that I will have a selection of their unusual metallic threads, silk threads and scissors at future shows.  I always like to stitch out samples of the things that I sell, and at the outlet store, I found a sampler set of some of each of their threads.  Over next couple of months, I will be "testing" and reporting on each thread here.  I bought some things to take to Granville, and some other things for myself.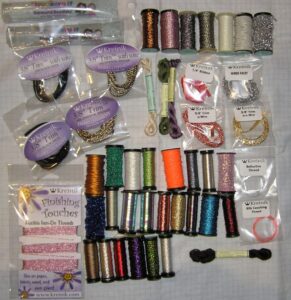 Then it was on to the last quilt show of 2019 for me, the biennial Heart of Ohio guild show, held on the grounds of the Bryn Du Mansion.  The house and grounds has an interesting history, more may be read here.   I was most pleased to see that one of the buildings is being used for a community arts center.  I will be looking into getting involved there in the future.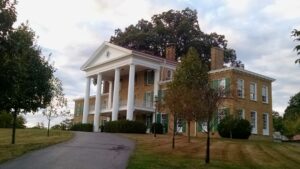 While the quilt show was good, I had some great food over the weekend.  In Heath, Ohio, I recommend Bombay Garden (delicious Indian cuisine) and in Granville, Mai Chau for equally delicious Vietnamese food.  I do not want to wait two years for the next quilt show there to go back to those two restaurants.  I'll have to find some other excuses to head that way sooner.
The show was a successful one for me, thank you to everyone who bought fabric and thread from me.  Welcome to my blog, too!  I had a few ideas presented to me over the weekend, and I am working on developing them more.  One of these ideas was coming to a guild meeting with some of my wares to sell.  If you belong to a guild that might be interested, please contact me to schedule for 2020.
Next week, more on metallic threads and those index cards – they just won't go away!