I just returned from my annual trip to the Original Sewing & Quilt Expo, and as you can see, I had a lot of fun!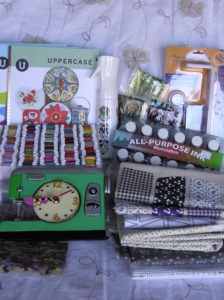 The best find of the day was four back issues of Uppercase Magazine for $2.00 each from a local guild's used book sale booth.  I really must subscribe to the magazine one of these days, though it is quite expensive for a quarterly magazine – however, if you make something, or want to be more creative, it is well worth the price.  Uppercase is an eclectic blend of artist profiles, inspiring ideas collections of interesting vintage items and histories of craft, design and manufacturing processes.  Highly recommended!
Other stuff that I couldn't resist: a complete collection of House of Embroidery perle cotton threads, a Dia de los Muertos decorated spray bottle, a set of Tsukineko inks and supplies, a funky sewing machine clock, a thread stand from Superior Threads, several small packs of funky yarns that I have never seen before and a few more yards of fabric that will go perfectly with some collage series of mine.
Check back to see what I have done with some of my new "toys."  I am taking the inks to my art journaling group tonight, and I will have more to say about the House of Embroidery threads later in the week.