A NOTE ABOUT PRODUCTS IN THIS BLOG:  I do not receive complementary  products to review, nor do I receive any compensation for reviews or mentions of branded items.  Any products discussed here I have either purchased on my own or are items that I sell or use my art and sewing business.
I have done it again, the end of last week has rolled into the end of this week, and I promised to talk a bit more about House of Embroidery perle cotton threads.  It might be better to share what I am playing with this week: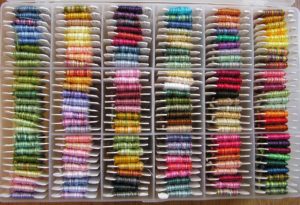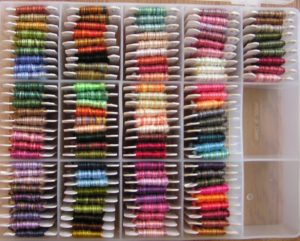 Don't those look luscious?  The words luminous, splendid, brilliant and elegant also come to mind.  They are a delight to stitch, take a look at this little sample: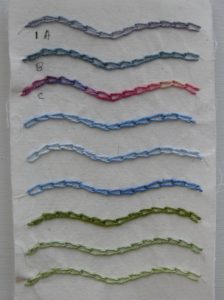 This is definitely the librarian/archivist coming out in me, I am starting to stitch out a series of postcards that will have a line (in chain stitch) of every single color.  I will have these threads at upcoming quilt shows, and the company allows retailers to create custom color combinations!  As I have been working on my own color blends of dyed fabric, the ability to have matching thread packages is wonderful news for me.