My self-imposed 8 X 10″ challenge continues to elude me.  Earlier in the week, I was playing with my Tsukineko inks , and successfully attempted the shaving cream marbling: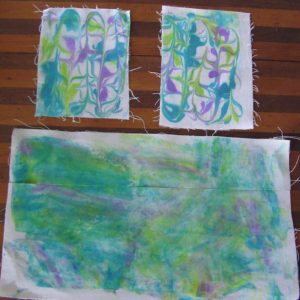 The piece on the bottom is the result of mashing the excess shaving cream and ink, scraped off of the marbled pieces, into another piece of muslin.
Today, while dinner roasted in the oven, I pulled a few pieces of fabric that matched the ones I used for the marbling, and quickly pieced an 8 X 10″ top.  Here is where I get bogged down on finishing things – embellishing.  Not that embellishing causes any sort of fear or anxiety that stops me from working, oh no… it is just that embellishing takes so much time.  Take a look at the fun threads I have pulled: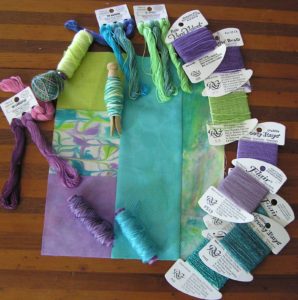 The threads are from Rainbow Gallery, House of Embroidery, WonderFil Eleganza and a few others.  I haven't pulled out any yarns or trims yet, will this little quilt get finished by the end of next week?