Seven days, seven little index cards, so far so good in my index-card-a-day challenge attempt!  I've already slipped a bit behind for this week, but I know what I want to do for the two not-yet-started cards, I will catch up.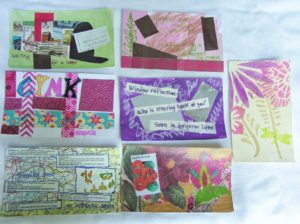 On Day Seven, the prompt was "stencil," so I played with my stencils from TSC Designs and Mayco Ceramics.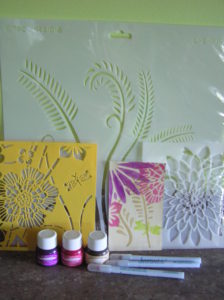 The yellow stencil is from one of the big box craft supply stores, and while the design is lovely, it has a sticky back that has been causing problems,  It sticks to everything, and the bond is stronger than a lot of the tapes I use.  It is starting to pull itself apart.  The sticky back is a great concept, makes sense to have a stencil that doesn't slip while you are using it, but I'm concerned about the self-destruction of the stencil , and the potential damage to the artwork that I use it on.
The colors are the Tsukineko inks from TSC, applied with Fantastix fillable markers.  I like the look achieved by overlapping layers of color and shapes or lines.  I will be exploring this technique in fabric, and I already want to try quilting the resulting fabric with a different design, not trying to follow the stencil patterns.
Over the past weekend, I took an inspiring class on making felted wool flowers.  Check back on Thursday for the more on that.