Creative stitching has not been happening in my world lately.  I'm trying not to get too worked up over this, as the days have gone by and I cannot get them back.  However, I have been creative in other ways – food.  Last week at my nearby produce auction, I purchased two gigantic heads of Chinese cabbage.  So far, I have made wonton soup (heavy on the cabbage), started a batch of kimchi (something I have always wanted to try making) and homemade egg rolls.  I still have one head of cabbage.  The soup and egg rolls were delicious, the kimchi has to ferment some days longer.  I don't know what I will do with the second head, I must get to it quickly.  So my creative energy has gone in a different direction, much to the delight of my taste buds.  There is no reason why creativity shouldn't affect all aspects of our lives.
Looking forward, I still have not picked up my goal of finishing the index-card-a-day challenges from 2018 and 2017.  I'm not going to go into great depths into this project here, other than to report my progress.  Here are the first two weeks from 2018, I managed to keep with the challenge at the time.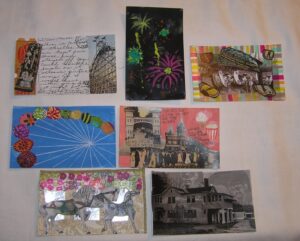 Prompts: roller coaster, fireworks, tilt-a-whirl, Ferris wheel, line/queue, carousel, haunted house.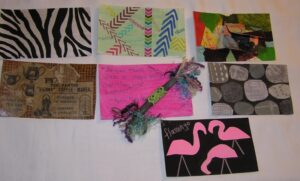 Prompts: zebra, chevron, trap door, coffee or tea, magic wand, cobblestone, flamingo.
I managed to complete four of the cards for week three when I was supposed to (summer 2018).  Will I get the remaining three cards done by next Tuesday?