I'm certain that I have a series about the people, places and things that influence and inspire my artwork on my old Blogspot blog, but I need to begin again here.  I've hinted here earlier at one thing that inspired me to start making boxes, but there is more to my boxes than a Steinbeck quote.
While traveling two-lane by-ways and backroads, I have cultivated a fascination with run-down, abandoned buildings.  There are so many untold stories hidden in the crumbling walls, fallen fences, twisted signs and rusted metal.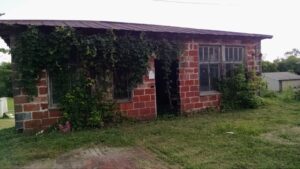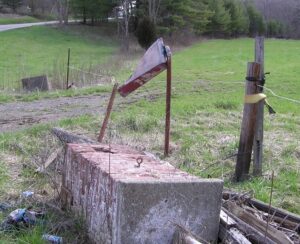 Over the years, I have collected many photographs from my travels of all sorts of weathered and forgotten structures, from the farm lanes of Southeast Ohio to the windswept deserts along Route 66.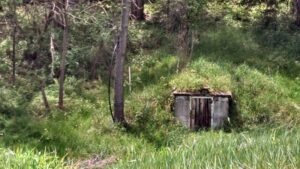 Broken windows, crumbling brick, gaps in wood planks, precarious listing to one side, patched holes, bent framing… the wear and tear of old buildings is visual poetry to me.  It wasn't until I had completed several of my small fabric boxes that I realized I was subconsciously capturing architectural decay in them.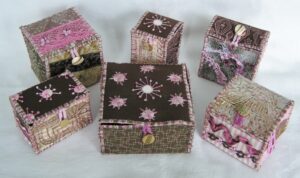 The boxes began where other projects ended.  The first boxes that I made used scraps from other fabric collages, and my decision to embellish each side independent of the others further conveys the spirit of dilapidated structures.  The process of pulling the box sides up and hand stitching them creates subtle warping, twisting and bending, completing my interpretation of things that are run down.  I love making them, and I like to think of them as little shrines to the past.