Like the White Rabbit in Alice in Wonderland, I am three days (actually more than that) behind schedule.  So, here is Tuesday's post on Thursday.  ICAD Week two is done, the prompts were suzani pattern, bookshelf, David Bowie, tiramisu, brocade, kite or rhombus and chamomile.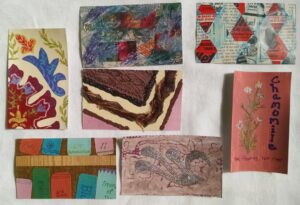 I was not at all interested in the David Bowie prompt.  This is my fourth year of participating in this challenge, and the first time that I completely ignored a prompt.  The creator of this challenge makes it clear that her prompts are optional, but until last week, I have stuck with them.  The card I made on the David Bowie day is a completely abstract mixed media experiment, and something that I could have created in response to a piece of music.  I have some ruminations on music-to-visual art explorations coming soon to this blog, but this card was not made with music in mind, just playing with supplies that I haven't used much.  It started with some random cut outs from pictures in an old Life magazine, then dabbed with an embossing ink pad and dusted with the accompanying embossing power.  After heating the power to work its magic, I scribbled over everything with a few colors of water soluble crayons.  An interesting result, and I'd like to try the combination again with a bit more purpose and direction next time.  I wonder if the embossing stuff and crayons will work on fabric…
I was delighted that two of the prompts had to do with textiles.  I had to look up suzani pattern, and fell in love with it.  My mind is churning with embroidery and applique designs influenced by suzani.  The card on the left is my first attempt at interpreting suzani patterns.  I'm sure that I will explore it further.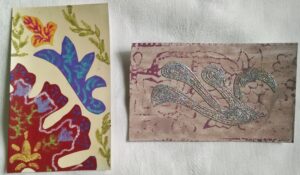 On the right, the card for brocade.  The shimmery wave design was made with Kreinik Iron-On Thread .  And yes, it irons on to paper!  I recently bought a selection of this Iron-On thread to play with, and I am loving it.  It is easy to apply, even around curves, and is a much easier way to add metallic thread to a project than sewing with it.  I am hoping to someday have a class featuring Iron-On Thread, and I will have it at quilt shows, whenever those might happen again.  Meanwhile, keep checking back here for my adventures in creating.