Using vintage linens and working in a collage style presents some challenging problems.  Certain traditional quilt methods of assembly just don't work well with my creative visions and materials of choice.  If you've visited my booth at a quilt show, you'll know that I sell quite a few dyed vintage damask table linens.  Many of them have a nice finished edge that I want to preserve while using them in a collage.  I am still trying to come up with an easy way to bind all the layers and not lose that finished edge.  Today, I am embarking on my latest attempt at this quest.
Starting with a medium size dyed damask napkin that will be the base of the collage, I picked out a couple of smaller squares on which to stitch scrap compositions.  These smaller squares will be similar to the 4 x 4" square that I have been featuring in previous posts.  The next step was to select scraps to add to the little squares: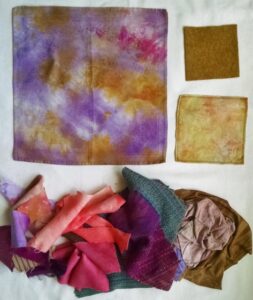 I pulled out more scraps than I'll be able to use in this project, but that's OK – it is good to have more to choose from during the early planning stages.  Next, I started working with the wool square.  Several little scraps jumped out at me, and the placement of them came together quickly.
Notice that all the pieces are separate from each other.  How would they look with a piece of fabric underneath (other than the background) that connected them together?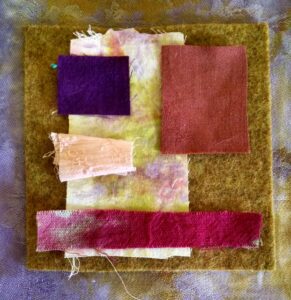 I like the second version, the additional piece of fabric adds another layer of interest.  I'm going to take a look at some trims and funky yarns to add, as I think I'm ready to start stitching this one over the next couple of days.
I invite you to follow along in my quest over the next week or so, will this work out, or be a dead end?  This will also be another look into my creative process.