When was the last time that you were in a place so quiet and serene that you could hear a leaf fall?  I have that opportunity this time of year, if there is no wind, and the cattle are quiet, to listen for the barely perceptible swish of a spent leaf coming to rest among its companions now carpeting the ground.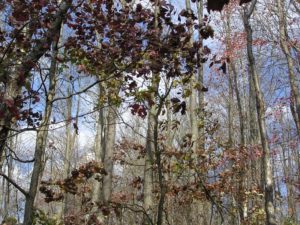 Being creative is not only about observing things around us that often go unnoticed – this demands a high degree of awareness of the many things in our day to day lives.  Creativity is also being able to zone in on one of those little details, and for a moment, focusing on that one thing, shutting out all the other chatter and clutter.  Then, we must find our own way to capture that moment, that detail, in a way to share with others.  Listen for that one little leaf, and tell someone about it.
Check back next week, I'll share some more of my little creative moments from the weekend – more ICAD adventures and moments of stitching.