What's this? I'm actually getting a post out on a Thursday, shocking!  Today I want to feature a few cards from my efforts in the 2019 ICAD challenge, and introduce a possible new daily project that I am trying.  I really have enough to do in my life, but as I always say, I will NEVER be bored.
From this summer's index-card-a-day event, here is a group that all share the same concept in carrying out the prompt: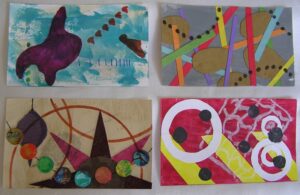 The prompts for these four cards were pendulum, tinker toys, guitar and skee ball.  I was not at all interested in these four prompts, and with a limit of time to produce a card each day, I had to get innovative with my interpretation.  For each of these, I looked at images of the subject, then extracted shapes, lines and patterns that I noticed in the images.  I then made paper cutouts of the shapes and arranged them in compositions that still had the elements of the object, but mixed them up in a new way.  These cards ended up being a lot of fun to work on once I tricked my brain into not seeing a guitar as a guitar, but a series of shapes to play with.  By the way, the guitar card is the only one that I drew the shapes with markers; I did not use my usual paper cut out collage technique on that one.
Earlier in the week, I received the current issue of Quilting Arts magazine.  One of the articles is a short introduction by Liz Kettle to daily meditative hand stitching.  It is another affirmation that if you want to be more creative, you have to make things every day, and build your skills.  One of the tips that Kettle gives in the article is to never remove a stitch in you daily stitch pieces – just keep going.  I absolutely agree with this!  If I keep redoing all the stitches that don't turn out like I want, I'll never finish anything, and I have enough trouble finishing things.  I have finished three 4×4″ squares, here they are:

I don't know if I will keep this up daily, with so many other creative things I have in progress, but I have a goal of five of these little stitchies each week.  They are a great way to warm-up before working on a bigger project, and to play with design and composition.
Next week, more about the ICAD cards (I really love them!) and whatever I have stitched over the weekend.